A sentimental melody is added to the famous study in B minor by Fernando Sor.
Angelo and I performed Moonlight duet on OCGC showcase recital at Chapman University on October 17, 2009.
Here are the settings of this recording:
Left: Joe
Right: Angelo
Sound recording equipment: Sony ECM-MS907 microphone + Sony MD, MZ-RH910
The microphone is placed at the 3rd row to the last of the recital hall. I put it on the steps in the middle of the hall. So the song source is NOT from the microphone we all see in this video. It's a lot further this that one.

No sound effects is added to this video.

Sony ECM-MS907 is power by one AA battery.

Sony MD, MZ-RH910 is power by one AA battery.

I attach the sound track from my Sony MD for you reference.
Download 下载: 

>> (file is compressed to wma format: 128kbps | 16bit | stereo | 44kHz)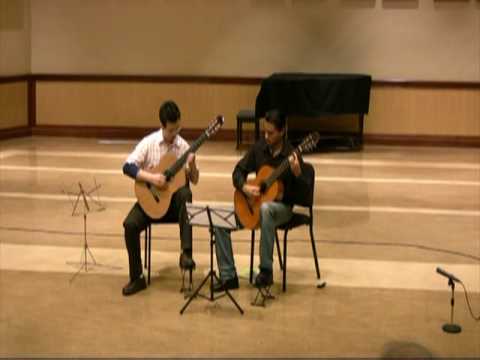 中国大陆在线视频:
Salmon Recital Hall at Chapman University
Located inside of Bertea Hall, Salmon Recital Hall serves as the main performance hall for many Conservatory of Music events.  One can hear a range of musical presentations including vocal and instrumental recitals as well as performances by the major ensembles on occasion.  Salmon Recital Hall often houses the esteemed guest artists and master teachers who present special performances, workshops and master classes for the Conservatory of Music at Chapman University.
Official website: