This is one of Heitor Villa-Lobos' famous classical guitar study. It says a arpeggio study in the subtitle of the manuscript. It sounds like a study for right hand. This confuses me for quite a long time. I find out that the notes in each measure landed at terrible places. It makes me very hard to execute right hand arpeggio and I even doubt it this is a arpeggio study. There is almost no fingering on the score. It makes the left hand fingering awfully hard to figure out. There are lots of possibilities to play one single measure.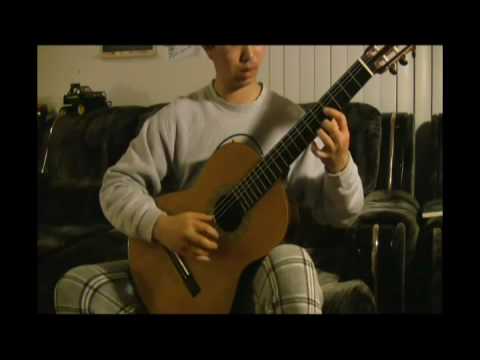 This video was recorded in on January 24, 2010. (my 6th try)
Composer: Heitor Villa-Lobos (1887-1959)
Guitar: ROMERIGO 01, 罗美里哥 01(2008试制版)
Strings: LaBella 2001 Classical MHT (very old strings, the winding metal of the 4th string is broken at the 4th fred)
Microphone: Sony ECM-MS907
I keep changing both my left hand and right hand fingering through out my learning process. The previous 5 videos are the prove. I can't say my fingering is finalized in the video, but it's workable so far. It depends on what I want to practice & improve. I may still keep changing over time.
My current focus is a-m-i-p and p-i-m-a coordination on different "string-groups". That means, sometimes, more than 1 stock on the same string, but the right hand still keeps the arpeggio fingering. There are some unusual string-crossings when I keep doing this way. There should be ways to improve it. But I'm keeping this fingering for my current practicing purpose.
At the last note of the 4th measure, I play a D the 1st time(I think it should be a D, the same as the 2nd note of this measure), then an E the 2nd time(It says on VL's manuscript), because I'm not sure if there is a human mistake on Heitor Villa-Lobos' manuscript. As a practice, my fingering ensures that it can be easily performed in both ways. I hope someone can prove what note it suppose to be.
The following videos are the previous practicing recordings:
3rd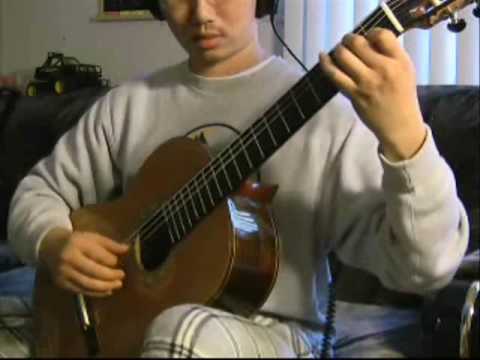 4th

5th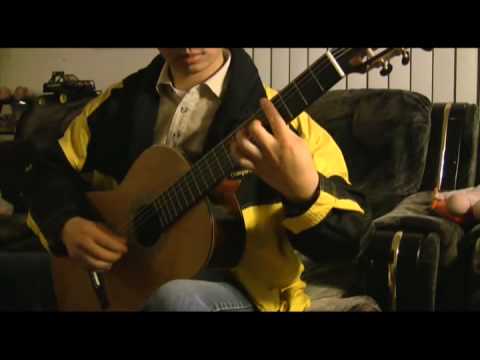 ╔═╦╗╔╦╗╔═╦═╦╦╦╦╗╔═╗
║╚╣║║║╚╣╚╣╔╣╔╣║╚╣═╣
╠╗║╚╝║║╠╗║╚╣║║║║║═╣
╚═╩══╩═╩═╩═╩╝╚╩═╩═╝   Joe's YouTube channels
http://www.youtube.com/subscription_center?add_user=ClassicalJoeNo1 
http://www.youtube.com/subscription_center?add_user=JoePracticing
http://www.youtube.com/subscription_center?add_user=TechJoeNo1
中国视频网站链接:
TuDou
http://www.tudou.com/programs/view/G_CAmwh3Xuw/