This is a classical guitar music recording test using the following devices.
Microphone: Rode NT4 Stereo Condenser Microphone
 (9V battery)
Digital recorder: Zoom H1
(MP3 format, 44.1kHz, 192 Kbps, stereo, input level: 90)
Digital camera: Samsung TL350 / WB2000
(video resolution: 1280 x 720 @30p)
Classical guitar: ROMERIGO 01, 罗美里哥 01(2008试制版)
Nylon classical guitar strings: Augustine Imperials Red, Medium Tension
Absolutely NO sound effects!!!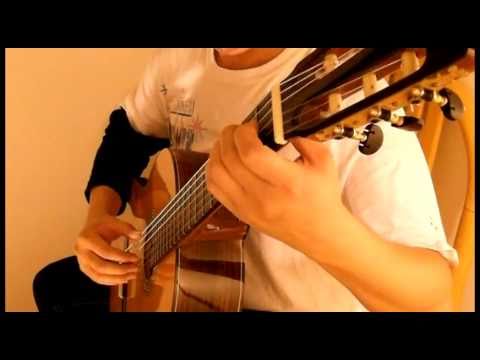 Use a DC9V battery as power supply for my Rode NT4 condenser microphone. There is only one ON/OFF switch on this microphone.
Connect Rode NT4 microphone to the line-in jack of my ZOOM H1 Handy Portable Digital Recorder. The internal stereo XY microphone from ZOOM H1 is disabled as soon as the line-in jack is occupied.
Put the digital camera, Samsung TL350/WB2000, close enough so that I can reach the start recording button without leaving my chair.
Set Samsung TL350/WB2000 video resolution to 1280 x 720 @30p.
Set the Rode NT4 XY microphone head about 0.5 meter (around 20 inches) away from the sound hole of my guitar.
Set the input level of ZOOM H1 to 90.
I use an earphone connect to the ZOOM H1 output jack so that I can monitor the audio in real time
Download 下载:  

>> Download MP3 audio file (Rode NT4 microphone + ZOOM H1 digital recorder):  Rode_NT4_ZOOM_H1_44KHz_192kbps.mp3 14MB
>> Download MP3 audio file (Samsung TL350/WB2000 digital camera):  Samsung_TL350_sound.mp3 14MB
>> Download MP4 original video file:  20101003_NT4_480p_2M_44k_256.mp4 163MB