This is a classical guitar quartet music recording test using the following devices.
Camera:  Kodak Zi8 Pocket Video Camera
(video resolution: 1280 x 720 @30p)
Plug-in microphone: Sony ECM-MS907
 stereo condenser microphone (1 AA battery)
Joe's guitar: ROMERIGO 01, 罗美里哥 01(2008试制版) 
strings:  LaBella 2001 Classical MHT (Medium Hard Tension)
(old strings)
Guitar Quartet: Air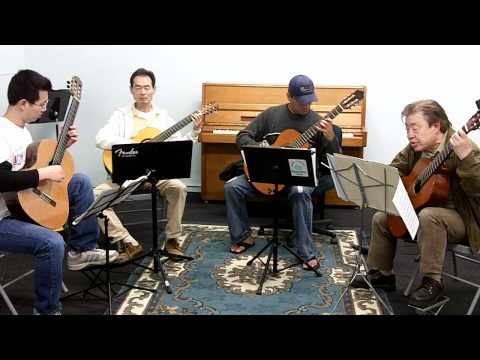 This YouTube video is uploaded using the original video file from Kodak Zi8: 939_1220.MOV
Video file size: 210,122,511 bytes
Pros:
The 1280 x 720 video quality looks pretty good, sharp and crispy.
Cons:
There is a steady background noise in this video. This is not good for music video recording.
The lens angle is narrow comparing to my Samsung TL350 / WB2000.