This is a excellent piece of classical guitar study. It's good for right hand arpeggio practice in particular.
The melody is so obvious in this study that we need to ring the melody clear and long lasting. For the right hand, Alternating i & m fingers is a bit challenging. Make sure to keep the correct rhythm of the middle voice. Don't play longer or shorter. Also need to keep the right hand steady and relax. That's reason which focusing on right hand practice practice is necessary in the study.
For the left hand, there are two big jumps to the 7th fret full bar, one in the middle, another toward the end. They are not easy to do. My tip is that if we can't bar the whole chord at the same time, then make sure the index finger of left hand position first. Do the other fingers later. For the left hand finger 1, we don't have to bar all 6 stings tight. The 1st and 6th strings are the key. The stings in the middle are not that important. Hope this will help.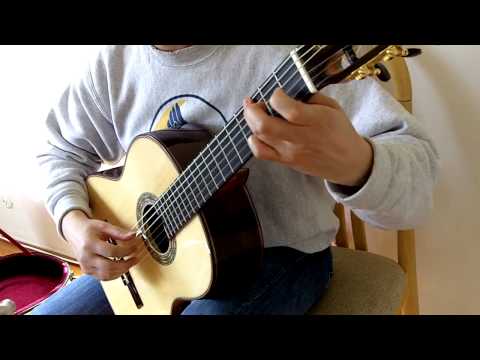 Download 下载: 

>>sheet music 乐谱,  download link
Composer: Matteo Carcassi (1792-1853)
Guitar: ROMERIGO S 01, 罗美里哥 S 01(2010)
Strings: LaBella 2001 Classical MHT (old strings come with my new guitar, >6 months)
Microphone: RODE NT4 + ZOOM H1
Camcorder: Kodak Zi8
Please enable Javascript and Flash to view this Flash video.
中国视频网站链接:
YouKu
http://v.youku.com/v_show/id_XMjc0MTM3Mjgw.html
Ku6.com
http://v.ku6.com/show/SraVGZm58hNXNPbJ.html