Music is composed by Fernando Sor. I'm practicing the 2nd part. It's still in E minor. The 3rd part (last part) will change to E major.
This is my 2nd attempt.
The right hand arpeggio is pretty tricky at the part. My right hand fingers make some noise when I get nervous. I need to find a way to relax and improve.
Note: I just put up a set of new strings, Luthier Concert Silver Set 30. It's a medium / hard tension set. I like the base strings.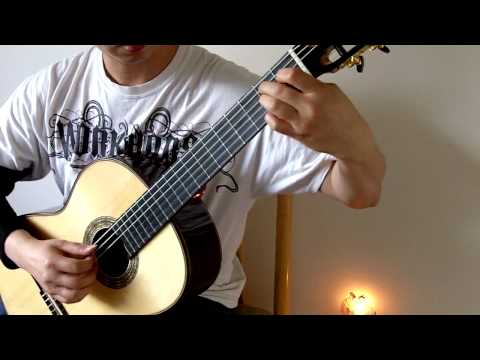 Composer: Fernando_Sor (1778-1839)
Guitar: ROMERIGO S 01, 罗美里哥 S 01(2010)
Strings: Luthier Concert Silver Set 30 (new strings)
Microphone: RODE NT4 + ZOOM H1
Camcorder: Kodak Zi8
Please enable Javascript and Flash to view this Flash video.
中国视频网站链接:
YouKu
http://v.youku.com/v_show/id_XMjg3OTM2MjEy.html